GYO
Gene Bertoncini (6 CDs)
Gene Bertoncini & Roni Ben Hur – Smile (2008) Artista: Gene Bertoncini, Roni Ben-Hur Album: Smile Año: 2008 Formato: mp3 320 kbps Tamaño: 111 mb Gene Bertoncini – acoustic nylon string guitar Roni Ben-Hur – electric, acoustic guitar Earl May – bass Guitar players from two generations in jazz always seem to find common ground, no matter their styles or ...
Gene Bertoncini & Roni Ben Hur – Smile (2008)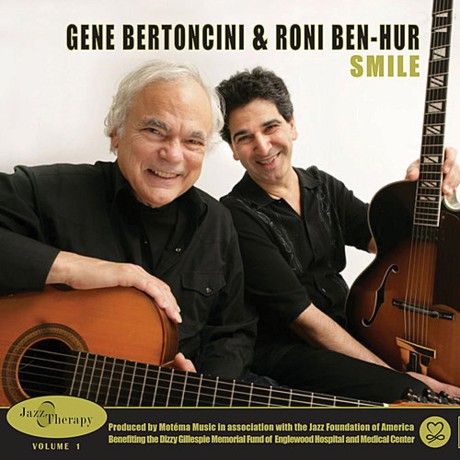 Artista: Gene Bertoncini, Roni Ben-Hur
Album: Smile
Año: 2008
Formato: mp3 320 kbps
Tamaño: 111 mb
Gene Bertoncini – acoustic nylon string guitar
Roni Ben-Hur – electric, acoustic guitar
Earl May – bass
Guitar players from two generations in jazz always seem to find common ground, no matter their styles or orientation. Old guard nylon-string acoustic master Gene Bertoncini meets electric guitarist Roni Ben-Hur in this series of duets without a rhythm section to play standards and four new compositions, all performed in the spirit of their mutual friend, veteran bassist Earl May, who passed away in 2007 prior to these sessions. Where the romantic, spare, classically derived strains of Bertoncini's sound is completely trustworthy beyond any in jazz history, Ben-Hur is a formidable younger lion who sounds like a second coming of Kenny Burrell. Their shared responsibilities have them trading lead melody lines, with Bertoncini more on the chordal side, while Ben-Hur prefers a linear approach, but that is not set in stone. Bertoncini's two waltz originals include the thoughtful "You Are a Story" and endearing "Set Blue," based on the changes of the immortal Toots Thielemans evergreen "Bluesette." The pair of contributions from Ben-Hur includes "Anna's Dance," a romance wafting on water wings song, while "Sofia's Butterfly" also soars and sings on spontaneous gusts of melody, sometimes using rare unison phrases. Usually the guitarists are separated by melodic and rhythmic stances, in light bossa nova moods during the venerable passionate standards "I Concentrate on You" and "Besame Mucho," lightly swinging on the down-up-down, serene and stoic take of "Out of This World," or introspective on a chamber version of Roberta Flack's "Killing Me Softly." Charlie Chaplin's delicate "Smile" and the lithe, upbeat bop number "That's Earl, Brother" (originally dedicated to columnist Earl Wilson), are both performed with Earl May in mind, for his persona and his personality respectively. As much as this is a thoroughly enjoyable and relaxing album from these two excellent guitarists, there's an additional reason to purchase it. Proceeds from its sale go to the Dizzy Gillespie Memorial Fund at Englewood Hospital in Englewood, NJ, which provides medical care to jazz musicians, and houses the area in the main lobby dubbed the Earl May Corner, where live performances are held regularly. ~ Michael G. Nastos
1. Killing Me Softly (5:09)
2. I Concentrate On You (4:57)
3. Smile (4:24)
4. That's Earl,Brother (4:22)
5. You Are A Story (4:23)
6. Anna's Dance (5:00)
7. Out Of This World (5:35)
8. Besame Mucho (5:52)
9. Sofia's Butterfly (4:07)
10. Set Blue (4:36)
Gene Bertoncini & Jack Wilkins – Just The Two Of Us (1998)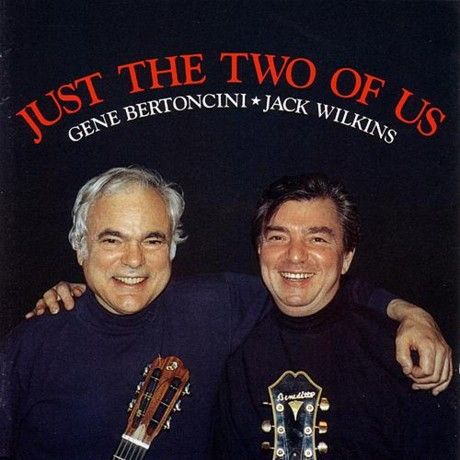 Artista: Gene Bertoncini, Jack Wilkins
Album: Just The Two Of Us
Año: 1998
Formato: mp3 320kbps
Tamaño: 164 mb
Recorded Live At Floating Jazz Festival,S Norway,Caribbean Sea,November 1998
Gene Bertoncini – guitar
Jack Wilkins – guitar
Gene Bertoncini and Jack Wilkins share the spotlight on eight guitar duets in a program of eight dazzling standards, played on stage during a 1998 jazz cruise. The former's cool style meshes beautifully with the more aggressive hard bop approach of the latter, starting with their imaginative rendition of "Lover Man." The intense interplay of "Gone with the Wind" and the lyricism of "Here's That Rainy Day" are also among the many highlights of their performances together. There's only one solo feature, Wilkins' bittersweet and carefully crafted take of Rodgers & Hart's "Spring is Here." This highly recommended duo should be considered an essential acquisition for fans of jazz guitar.
1. Lover Man (9:16)
2. How Deep Is The Ocean (9:37)
3. Cry Me A River (8:39)
4. Gone With The Wind (6:40)
5. Spring Is Here (3:35)
6. Manha De Carnival (8:11)
7. You Stepped Out Of A Dream (7:24)
8. Here's That Rainy Day (5:51)
9. Embraceable You (6:33)
10. The Shadow Of Your Smile (6:10)
Gene Bertoncini – Body & Soul
Artista: Gene Bertoncini
Album: Body & Soul
Año: 1999
Formato: MP3 320 kbps
Tamaño: 97,6 MB
New York City, May 2004 – "Body & Soul" by legendary guitarist Gene Bertoncini is now available as a Hybrid Super Audio CD>
This recording was originally made with DSD equipment in 1999. Due to the lack of Super Audio CD players at the time, it was down converted to the standard CD format for release. It is now available in its full resolution as a Hybrid Super Audio CD. Hear Gene Bertoncini's nylon string acoustic guitar for the first time captured by this superior digital format. Like other Ambient Records releases these Hybrid SACD's are playable in all CD players.
Gene Bertoncini is one of the pre-eminent jazz guitarists active today. His fluid technique have won him international praise and such accolades as the "Segovia of jazz". An eloquent and versatile improviser, has been heard with an extraordinary range of jazz greats, including performances and recordings with Benny Goodman, Buddy Rich, Wayne Shorter, Hubert Laws and Paul Desmond, among others, as well as with such distinguished vocalists as Tony Bennett, Carmen McRae and Lena Horne, Vic Damone and Edye Gorme.
The Washington Post proclaimed his last solo appearance in New York City the best jazz concert of 1999. Mr Bertoncini's acclaim is hardly confined though, to this country. His recent CD "Body and Soul", with his own arrangements of classic standards won international raves, including recognition in Brazilian critic's and listener's polls as one of the best jazz recordings of the year; those same polls also named him the best accoustic jazz guitarist.
Gene Bertoncini 's striking new CD on Ambient Records, "Body and Soul", features his own innovative solo arrangement of classic jazz and popular songs.
A prolific and popular studio musician Gene has also worked with composers and arrangers such as Lalo Schifrin and Michel Legrand, in addition to numerous television appearances. Mr. Bertoncini has also worked with the Metropolitan Opera Orchestra and the New York Pops Orchestra.
In addition to an active performing and recording scedule, Gene Bertoncini teaches at the Eastman School of Music, the New England Conservatory, New York University and the Banff School of Fine Arts. A New York native, Mr Bertoncini is a graduate of Notre Dame University, from which he received a degree in architecture.
1.The Shadow Of Your Smile (4:22)
2.My Funny Valentine (3:25)
3.How Are Things In Glocca Morra (4:14)
4.Body And Soul (4:18)
5.Edelweiss (2:19)
6.Round Midnight (3:30)
7.Stardust (3:02)
8.But Beautiful (2:01)
9.I Remember You (3:16)
10.Greensleeves (4:14)
11.Cavatina (2:53)
12.Sophisticated Lady (3:16)
13.Snowfall (1:46)
Gene Bertoncini & Frank Vignola – This Is The Way We Play (2006)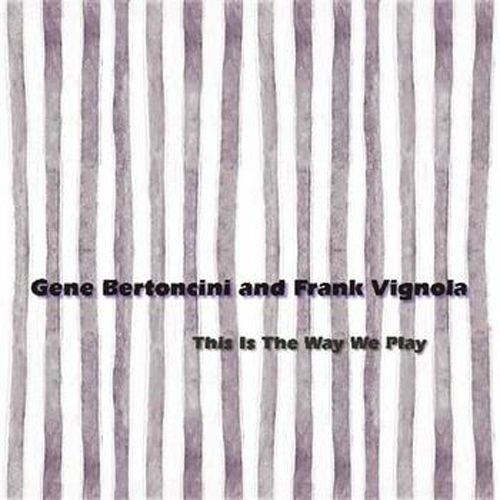 Jazz, Swing, Guitar Jazz
MP3 320 Kbps
122 MB
Year: 2006
Label: Acoustic Disc
Time: 53:52
Gene Bertoncini and Frank Vignola have been performing together for over 8 years now all over the world. This brand new release is the follow up to the critically acclaimed disc, "Meeting of the Grooves".
There unique style of interplay is beyond description and was recorded in Sept 2006 by Gene Paul in NYC at DB Plus.
01. Improv All Blues (11:05)
02. Lil' Darlin (6:40)
03. My Romance (5:04)
04. Night & Day (5:30)
05. Samba De' Orpheus (5:02)
06. Stars Fell On Alabama (4:05)
07. Triste (4:49)
08. Dindi (4:47)
09. Black Orpheus (7:08)
Gene Bertoncini – acoustic guitar
Frank Vignola – acoustic guitar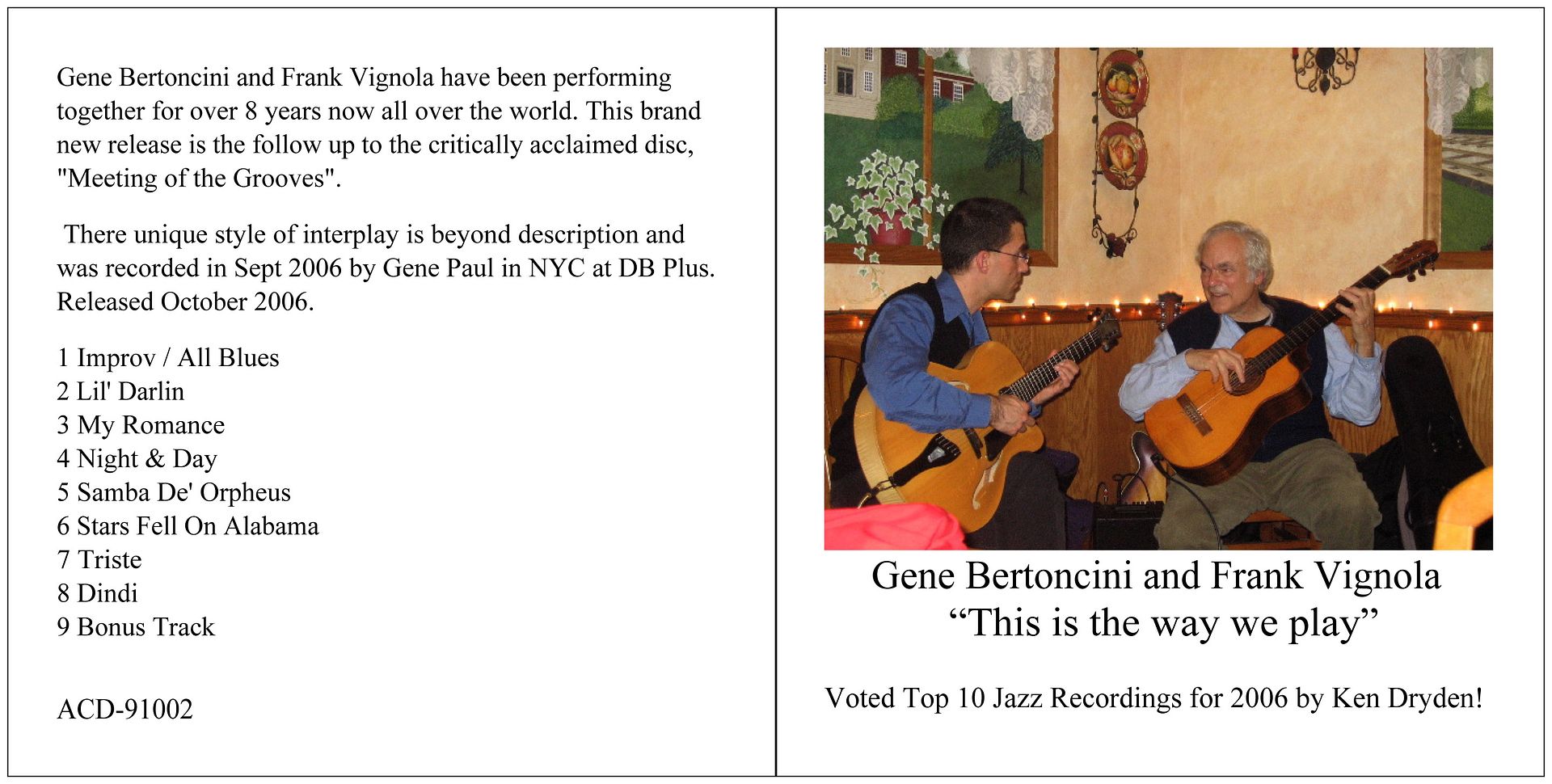 Gene Bertoncini & Kenny Poole- East Meets Midwest
Released: 1998
Size: 137,5 MB
Time: 60:02
File: MP3 320 Kbs 
Styles: Jazz Guitar Duo
Label: J-Curve records (JCR298)
Art: Front
01. Tangerine [4:09]
02. Do Nothin' Till You Hear From Me [3:54]
03. All The Things You Are [4:38]
04. The Shodow Of Your Smile [4:06]
05. Cherokee [6:19]
06. Estate [5:59]
07. How About You [3:42]
08. Sophisticated Lady [5:26]
09. Snowfall [3:34]
10. Willow Weep For Me [8:52]
11. Woman From Bahia [3:47]
12. A Sleeping Bee [5:32]
Jazz guitar duos have a long tradition; Joe Pass/Herb Ellis, George Barnes/Carl Kress, and now Kenny Poole/Gene Bertoncini.
One of the most tasteful guitarists around, Gene Bertoncini has a warm sound, plays at a low volume, and consistently comes up with melodic and exquisite improvisations. Born in New York in 1937, he started on the guitar when he was 9. By 1953, when he was 16, he was a professional, playing on a children's television show. Bertoncini made a departure away from music, studying architecture at Notre Dame, for which he earned a degree, but soon returned to music, playing with Carmen McRae. In the late 1950s he was part of a Buddy Rich small group that also included Sam Most and Mike Mainieri. Working constantly in the studios and in television orchestras (including those of The Merv Griffin Show and Johnny Carson's Tonight Show), Bertoncini played with Clark Terry, Nancy Wilson, Paul Winter, Tony Bennett, the Benny Goodman Sextet, Lena Horne, Paul Desmond and even the Metropolitan Opera House Orchestra.
In the 1970s, the versatile Bertoncini was on recording projects with Wayne Shorter and Charles McPherson. He formed a duo with bassist Michael Moore that lasted on and off for two decades. He has taught at the Eastman School, the New England Conservatory, the Banff School Of Fine Arts and other colleges. The guitarist has led CDs for Stash, Chiaroscuro and Omnisound, Ambient, Azica, Sons of Sound and Noteworthy. Gene Bertoncini is particularly expert at playing bossa-novas or light classical melodies, always infusing the music with subtle jazz improvising.~Jazztimes.com
Gene Bertoncini is an eloquent and versatile master of the guitar with a "stellar nylon string finger style" which "makes him one of the finest jazz – oriented guitarists on the scene. His playing is characterized by highly inventive single line improvisation and rich harmonic chordal concepts that in combination provide an incredible listening experience".He has worked with Tony Bennett, Lena Horne, Buddy Rich and many other jazz luminaries including eight years of duos with bassist Michael Moore – described as "one of the finest pairings of jazz strings" by the New York Times. When he isn't in the studio or playing at New York City's better venues, Bertoncini can be found in an academic setting at the Eastman School of Music, the New England Conservatory or Banff School of the Fine Arts.
Guitar virtuoso Kenny Poole, until recently the Midwest's best kept Jazz Guitar secret, has recently cut his first CD – East Meets Midwest – for J Curve Records. In the past, although Kenny has chosen to keep a low profile, he has played with, among others, Joe Pass, Herb Ellis, Barney Kessel, Tal Farlow, Mundell Lowe and Jimmy Raney. Kenny Poole is one of the most melodic and inventive guitarists around today. When Kenny plays the guitar, he closes his eyes and becomes one with the music. His ability to swing is unequaled and his easy smooth style delivers a unique listening experience.
New Yorker Bertoncini and Cincinnatian Poole have contrasting styles on acoustic nylon string guitars: the former is more classic and classical, while the latter is a bit more swing-oriented. Together they are perfectly in tune with one another's notions and inclinations, playing these 12 standards faithfully and with tender loving care. Acoustic bassist Bob Bodley joins them for several cuts, but is mixed well in the background, unobtrusive and quiet, as the guitarists weave their own mezzo piano spell. Easy swing is the thing for well-known tunes like "Tangerine" and "A Sleeping Bee," which bookend the recording. (The latter piece is loaded with interplay and an opportunity for Bodley to solo). Blues is also prevalent on the pair of Duke Ellington numbers, "Do Nothin' 'Til You Hear From Me" and "Sophisticated Lady." "The Shadow of Your Smile" holds the most intrigue for the two plectrists; it sounds like they are waiting for each other to make a move, not tentative but coy and cunning on this boppish, faster version. They also change up the bop flag-waver "Cherokee," turning it into a samba with reserve and resolve. Of the Brazilian pieces, "Estate" starts in a free rubato mode leading to a molasses slow bossa nova, "All the Things You Are" is turned into a quick samba, and "Woman From Bahia" is a cool samba. "Willow Weep for Me" is the longest track at nine minutes, and the loping melody lingers on and on. The highlight is Claude Thornhill's "Snowfall," with an almost country feel informing two chord embellishments. A good teaming for these masterful players and underdocumented musicians. ~ Michael G. Nastos
Line-Up: Kenny Poole (guitar); Gene Bertoncini (guitar); Bob Bodley (acoustic bass)
Gene Bertoncini – O Grande Amour
Artist: Gene Bertoncini
Album: O Grande Amour
Year: 1987
Format: mp3/320kbps
Size: 107 mb
Tracklist:
1.O Amor Em Paz (6:40)
2.Chega De Saudade (6:02)
3.Zingaro (6:02)
4.Rio Pindare (4:52)
5.O Grande Amour (4:37)
6.Corcovado (5:25)
7.Canto De Ossanha (7:02)
8.Pensativa (6:28)
Gene Bertoncini-guitar
Michael Moore-bass
Edison Machado-drums
| # | Peso | Formato |
| --- | --- | --- |
| Info | 6 CDs | MP3, ZIP, RAR, 320 kbps |
LINKS:

---

- Tienes que estar registrado para ver los enlaces -
- You have to be registered to see the links -